Recovery Day Six

Video courtesy of Hemlock Films "The Restorers"
July 5th, 2013, the final morning that Sandbar Mitchell will rest on the Tanana River sandbar. At this time most of the recovery team returned home to Michigan, with just the core members Patrick, Todd, Anna and local volunteers remaining. The complete airlift mission lasted only 10 minutes. We are very grateful to Construction Helicopters Inc out of Howell, MI for donating the airlift of Sandbar Mitchell. To view more pictures of the center section being airlifted please CLICK HERE.
---
Starting The Journey Home To Michigan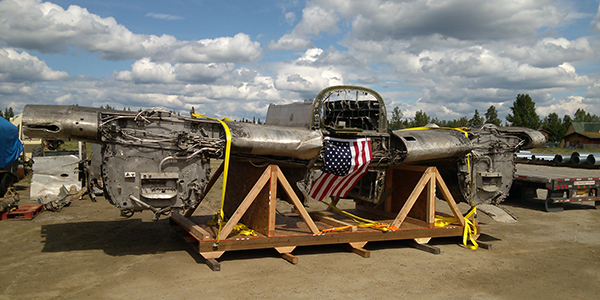 July 6th, 2013, Sandbar Mitchell was fully recovered from the Tanana River sandbar. To prepare her for the trip home to Michigan the remaining parts of the outer wing panels, the leading edge, and trailing edge had to be removed as well as packaging up all remaining parts. After two days of disassembling, packing and loading, Sandbar Mitchell was ready to start her journey home. To view more pictures of preparing Sandbar Mitchell for the trip home please CLICK HERE.
---