Warbirds Of Glory Events
---
---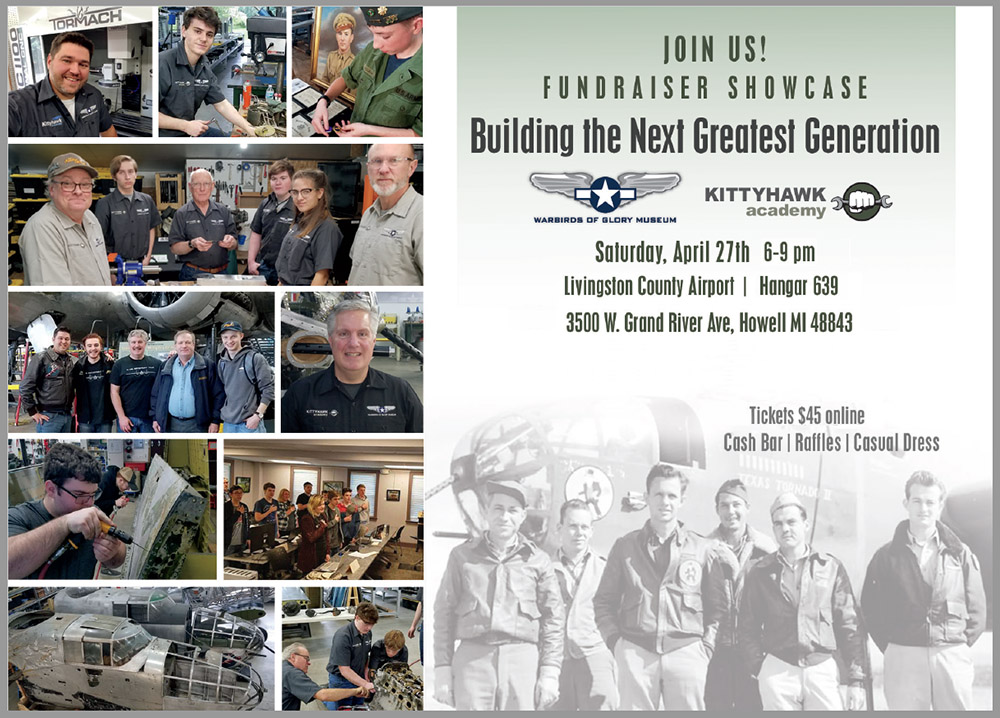 Fundraising Showcase
104 going. 46 spots left.
Tickets $45.00 each
---
*
Saturday at 6:00 PM to 9:00 PM
*
Livingston County Airport Hangar 639
3500 West Grand River Avenue, Howell, MI
Details
The Warbirds of Glory Museum and Kittyhawk Academy request the honor of your presence at our Fundraiser event at the Livingston County Airport in Howell.
You are invited to come and tour the progress of Sandbar Michell, our WWII B-25 bomber restoration that will include sections of the actual aircraft as well as exhibits and displays of our progress.
Enjoy viewing artifacts and memorabilia from pieces of our past in honoring our greatest generation, including a special honor of the crew of the B-25 8Z from the 488th BS that was shot down over Italy.
Our fundraising showcase highlights Kittyhawk Academy. Experience demonstrations and Interact directly with students and mentors to learn why the Kittyhawk Academy program is so popular in developing our next generation with workshop skills, mechanical abilities, and an interest in the trade skills.
Many chances to support these activities:
• Raffles and silent actions.
• Direct giving via donation card.
• Raise your paddle for Kittyhawk Academy scholarships.
• Donations to the Student Tool Reward fund.
Tickets $45 at http://bit.ly/Event27
Strolling dinner.
Dress casual.
Space limited to 150 guests.
Are you curious? Want to learn more. We have a lot of information and pictures at our websites:
www.warbirdsofglory.org
www.kittyhawkacademy.org
Any questions, please contact Todd Trainor, 810-599-4035, todd@warbirdsofglory.org
---
---
Going
Jeffrey Shaud
Ray Krom
Jerry Beamer (party of 2)
Julie Amman (party of 3)
Luanne Bibbee (party of 2)
Lance Lewis (party of 2)
Linda Berch
Jack Hardy (party of 2)
Larry McKillop (party of 2)
David O'Nions (party of 2)
Elizabeth and Mark O'Neill (party of 2)
Todd Trainor (party of 2)
Anthony Liberatore (party of 2)
Rodney Beckwith (party of 2)
Danny Green (party of 2)
Jamie Nicholson (party of 4)
Nancy Otto
Pam House
George Watts (party of 2)
Jim Watters (party of 2)
William Nash
Amerivet Services (party of 6)
Ron Asman
Ellen Silverest (party of 2)
Phil Prystash
Mary Zucchero (party of 2)
Wayne Bloodworth (party of 2)
Mark Jaffray
Dale Feigley (party of 2)
Penny Murphy (party of 2)
Matthew Doane (party of 2)
Roger Ashley (party of 2)
Duane Collicott (party of 3)
Charlie Flaherty
Katherine Janego (party of 2)
Wendy Zielen
Tom Vukonich
Doug Mass (party of 2)
Vince Mariucci (party of 2)
Adam Christian (party of 2)
MARK BROWN (party of 4)
Cressel Smith (party of 2)
Albert LeBlanc (party of 2)
Brian Mowers (party of 2)
Del Spooner (party of 2)
Dick Steele (party of 2)
Ron STALEY (party of 4)
Jon Benavides
Carl Franz
Miles Bowen (party of 2)
Harmon Pierce
and 5 other anonymous guests.
---
---