The History of Sandbar Mitchell
North American Aviation manufactured B-25J 44-30733 in Kansas City, Kansas within the 25th block of B-25s built in 1944. Delivered to the USAAF on February 16, 1945, the aircraft was transferred to Garden City, Kansas for storage.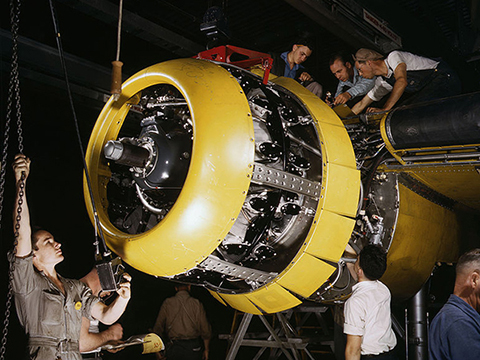 After serving her duties as a bomber trainer (BD-733) with the USAAF from 1945 to 1959 at Pyote, Vance and Randolph Air Force Base, she was once again transferred into storage and dropped from the inventory as surplus.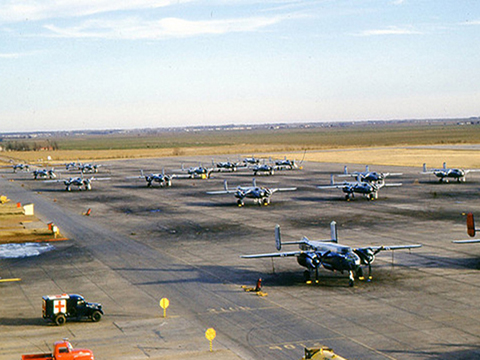 In 1960, the B-25 started her civilian life as N9088Z. Converted to a fire suppression bomber by Johnson Flying Service of Missoula Montana, the aircraft served the local community throughout the mid-sixties. Edgar Thorsrud, a pilot at the time for Johnson Flying Service, purchased the B-25 and re-located it to the interior of Alaska. Under contract with the Bureau of Land Management, the B-25 fought forest fires and dropped ash to break up the ice on the Tanana and Yukon Rivers.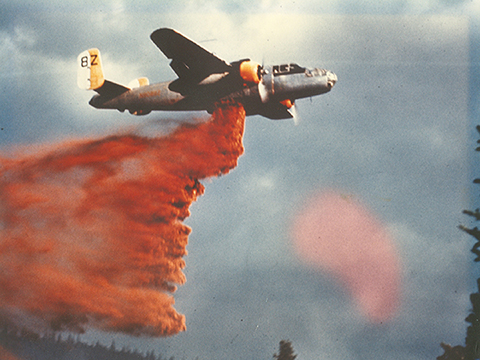 On June 27, 1969, while fighting the Manley Hot Springs fire outside of Fairbanks, Alaska, the B-25 suffered a double-engine failure shortly after takeoff from Fort Wainwright. With few options, pilot Herm Gallaher skillfully landed wheels-up on a sandbar in the middle of the Tanana River.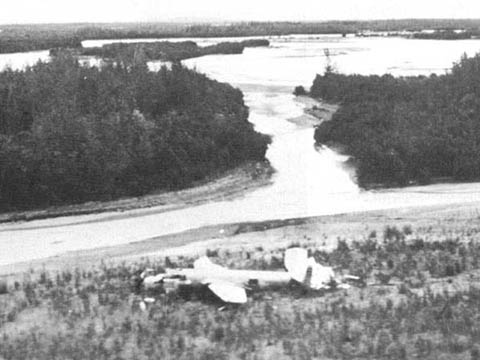 After the forced landing on the sandbar, Edgar and Jim, his mechanic, traveled to assess the damage to the airframe. A decision not to recover the Mitchell was made. Important items like the engines, instruments and control surfaces were salvaged.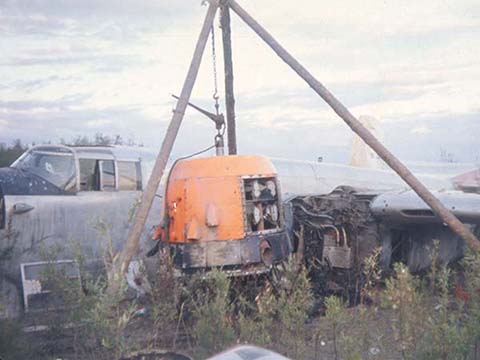 In the 1960s, the associated cost of recovering and repairing the Mitchell would exceed the cost of purchasing another surplus B-25 airframe. Left abandoned to time, were the remains of N9088Z.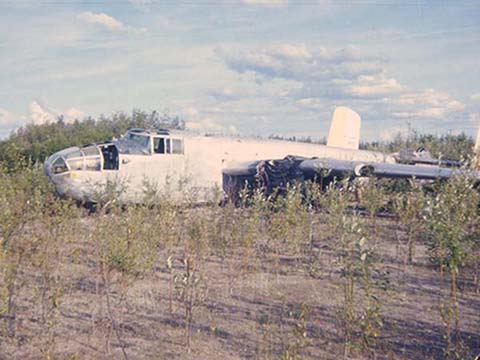 The constant changing of the Tanana River consumes sandbars leaving nothing behind. After years passed, this sandbar remained, turning into a forested island.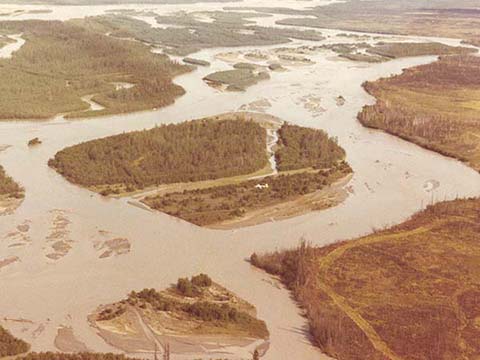 In 1979, the B-25 was still a very complete airframe. Local pilots would use the aircraft as a point marker to turn from base to final into the Fairbanks International airport. The B-25 took on the nickname "Sandbar Mitchell".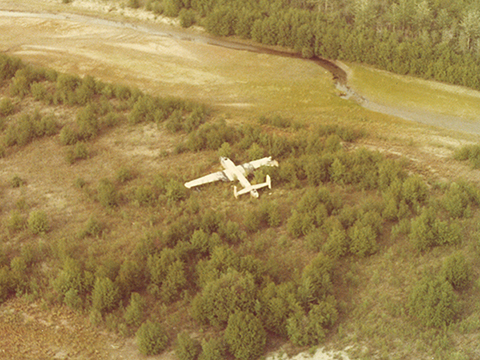 Time was rough on the Mitchell, not because of Mother Nature, but because of humans. People had used the B-25 for target practice, scavenged it for souvenirs and removed parts for aluminum scrap.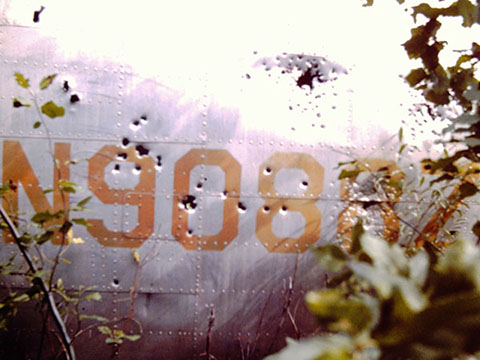 After forty-four years on the sandbar, the remains of Sandbar Mitchell left the forested island on July, 2013 and started the 3,700-mile trip to Michigan.
Over the past six years, the recovery of the Sandbar Mitchell story has gotten national awareness. Thanks to our followers, parts removed from Sandbar Mitchell in the past four decades while she sat on the sandbar, have made their way back to Michigan and to the aircraft.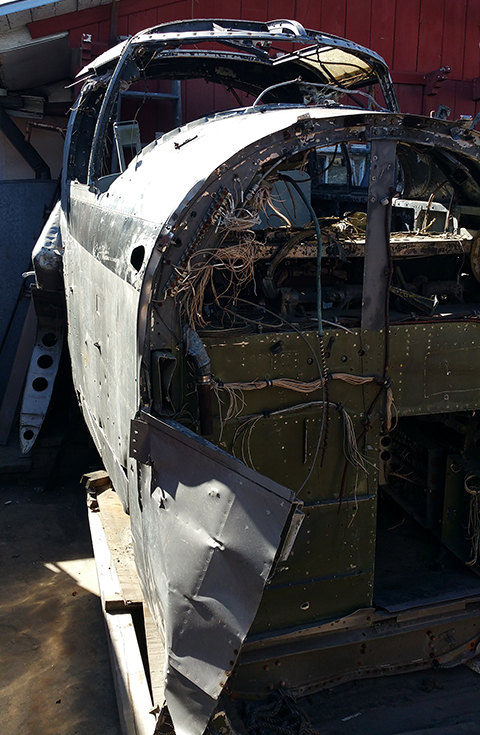 ---
A Flight In Sandbar Mitchell
---
44-30733 History Timeline
· Manufactured by North American Aviation, Kansas City, KS, 1944
· Delivered to USAAF as 44-30733, February 16 1945
· Moved into storage at Garden City AAF, KS, February 1945
· Transferred to 4168th AAF Base Unit, South Plains AAF, TX, April 1946
· Transferred to 4141st AAF Base Unit, Pyote AFB, TX, August 1947
· Transferred to 3575th Pilot Training Wing Vance AFB, OK as TB-25J, November 1948
· Converted to TB-25N, March 1954
· Transferred to 3510th Combat Crew Training Wing, Randolph AFB, TX, November 1957
· Moved to Arizona Aircraft Storage Branch, Davis-Monthan AFB, AZ, May 1958
· Stored at Davis Monthan AFB, AZ, August 1958-1959
· Dropped from inventory as surplus, December 1959
· Sold to National Metals, Phoenix, AZ, December 1959-1960
· Registered as N9088Z
· Sold to Johnson Flying Service, Missoula, MT, December 1959-1966
· Sold to Edgar L. Thorsrud, Missoula, MT, December 1966-1970
· Converted to fire tanker
· Flew as #8Z, based in Alaska
· Forced landing on Sandbar, Fairbanks, AK, June 27, 1969
· Airframe derelict at crash site, Tanana River for 44 years
· Sold to Warbirds Of Glory Museum, Brighton, MI 2013-current
· Recovered July 5, 2013